Healthcare Compliant IT Services
Brooks Network Services is a HIPAA Verified IT company that is focused on helping you and your practice Safeguard Electronic Protected Healthcare Information (EPHI)  while helping to increase productivity.
If you're ready to find a HIPAA-verified IT company right away, don't shop around until you've read our ebook: 8 essential questions to ask before hiring an MSP. After all, selecting a technology partner to maintain your systems is one of the most important decisions you'll make. It's crucial to find a technology partner that's capable of helping you see more patients in less time – without sacrificing compliance with industry-specific regulations.
But here's the thing… Electronic health records require robust data security measures to meet ever-evolving regulations. We spealize in:
Do you REALLY need a HIPAA verified IT company to work with you on implementing the appropriate technical and non-technical safeguards?
We've heard this question before. The thing is… Working with a technology partner that's HIPAA verified gives you peace of mind knowing they're fully aware of how to protect ePHI. And this awareness helps you avoid a breach and its legal ramifications. Just take a look at some examples of what happens when you're NOT in compliance.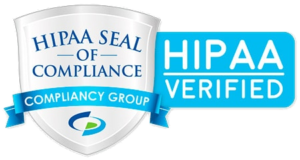 As a caregiver, you may be liable for the loss or inadvertent disclosure of your patients' data even if your IT managed service provider caused the breach.

Data loss prevention measures, for example, creating and maintaining multiple exact copies of electronic health records, are legal requirements.

Cybersecurity awareness and training programs for your hospital staff at all levels constitute a data compliance issue.

As part of your overall data compliance strategy, you should conduct a comprehensive assessment of cyber threats to the privacy, integrity, and availability of your ePHI, be it offsite or on-premise.
Brooks Network Services Offers A Broad Spectrum Of HIPAA-Compliant Technology Solutions For Small And Mid-Sized Healthcare Organizations. Data Security Is Ingrained In All Our IT Provisions, Including:
Email Security:  Business-class email systems with two factor user-authenication, encryption, and malware detection safeguards that help keey cyber threats at bay.
Application Whitelisitng:  This service screens all software running on your network to seperate useful applications from malicious ones.
Data Encryption
Secure Network Architecture
Firewall and Intrusion Control
End-User Cybersecurity Training:  We train nurses, doctors, clerks and thrid party staff handling patient information how to recognize and side step cyber threats, including phishing attempts
Compliant Cloud Solutions
We offer cost-effective, HIPPA-compliant cloud solutions to help you enhance the quality of care for your patients.  Practitoners can access cloud-hosted data and software on demand, including while on the move.  Our servers are hardened to help mitigate threats from unauthorized access or tampering, helping to keep the integrity and confidentiality of sensitive patient data intact.
Compliant Managed IT Services
Brooks Network Services provides IT support services to ensure that your healthcare systems remain available and performs at optimal levels consistently.  Through ongoing monitoring, our team of HIPPA-compliant engineers detect and fix potential issues before they can cause system downtimes.  We're proactive, and we provide in-depth industry analytics to help align your health IT strategy with best practices.
Disaster Recovery Services
We keep your clinical and patient data available all the time with our business continuity solutions.  We provide disaster recovery services, such as software and data backups, to help you resume operations quickly after a flood, fire, or other natural disaster.  Our best in class continuity solutions also protect against accidential data deletion by users also.
Our virtual CIO service delivers the technical capabilities and expertise your healthcare company is unable to develop in-house.  We can help you make the right strategic and platform-level decisions on behalf of your IT department, eliminating the need to maintain a costly job position.  Our experts have extensive experience in healthcare systems, and they supervise or spearhead the design, development, and deployment of customized IT infrastructure.  We help cargivers and related organizations with a thorough audit of IT systems.
Count On BNS For Healthcare IT Services
Whether you're a medical facility, doctor's office, or health/insurance plan, BNS has the technological resources and expertise to help you maintain, process, and transmit patient data securely. We are your reliable provider of healthcare compliant IT services. Our service has been audited by a trusted third-party, which distinguishes us from other providers.